VASIA TZOTZOPOULOU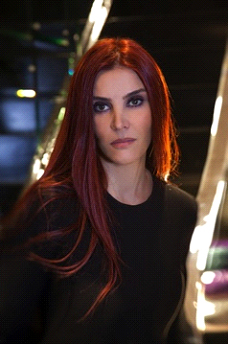 Vasia Tzotzopoulou was born in Grevena city and grew up in textiles and clothing. She graduated from the Drama School "Veaki" and after eight years career as an actor chose to fully devote herself to clothes. In 2002, opens her own boutique in Kolonaki, "Passion Alley" and starts to create t-shirts, dresses, caftans and costumes for theatrical performances. Women loved her style and her creations are worn by many famous Greek women. In recent years, she enjoys creating dresses that gives her the opportunity to unfold all the knowledge and senses and get into a nice role in a woman's life, that of the bride!
Vasia Tzotzopoulou wedding dresses are elegant, ethereal, sensual. Clean lines, luxury fabrics that love the female body. Silk tulle, French lace (exclusive of the house Sophie Hallette Paris), handmade braids - tied masterfully-create female figures that exhale an ethereal dynamism. Dresses inspired by their creator and sewn by the best professionals in Milan (her main collaborator works in the house Dolce & Gabbana) and Athens.
Vasia Tzotzopoulou gets inspired by each individual bride.
"I approach the clothes like an actress. Every woman for me is the heroine of an act. Depending on the act, I create the dress or the wedding dress. I want my wedding dressers to have the same magical influence that a suit has to an actor (transfer them to another dimension making them another person that of the acting role). Make women feel beautiful, unique, confident!"